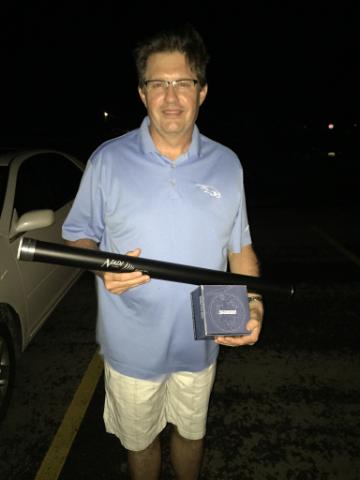 Thursday evening, August 13, 2015.
Jay Best with custom built Salem Hills High School Cheerleading
Nadi Fly Rod.
—————-
After three years of donating to the Salem Hills High School cheerleading social and fundraising event, hoping to get his hands on one of the beautiful and high performance Nadi Fly Rods, long time fly angler and Skyhawks supporterJay Best finally got himself a specially custom designed Nadi Fly Rod built by owner Randy Rodriguez!
The 2015-2016 custom build is the best yet in the three years Randy has built a rod for the SHHS Cheer fundraising efforts.
Starting with the Rodgeeks' high strain, high modulus Carbon 4 fly blank in custom colored blue metallic as foundation, Rodriguez installed a gorgeous PacBay A7V vented reel seat with phantom grey hardware and rosewood insert; Winn Grip natural/fish scale, advanced polymer western fly grip; PacBay gold single foot guides, winding check, hook keeper, and tip top; and ProWrap regal blue nylon thread wraps highlighted with bold Madera sky blue polyneon trim wraps, all to match the SHHS schools colors and Skyhawks theme.
This custom nine foot, five weight, four piece, fast action SHHS Nadi fly rod is finished off with a Nadi logoed black aluminum rod tube, premium quality microfiber rod sock, and a Sage 1650 five weight fly reel and high performance five weight forward floating line.
The rod's specs: Total weight 3.1 oz. Swing weight 8.1 oz
This is truly an amazing, one-of-a-kind fly rod, unique in its aesthetics and performance!
Randy Rodriguez/Nadi Fly Rods thanks Clay and Cindie Simmons (Cheer Team Advisor) for letting me build these custom fly rods for the girls' fundraising efforts these past three years and congratulates Jay on winning the 2015-2016 custom SHHS Skyhawk Nadi fly rod!!!