For the fly angler who demands a high performance, fast action, and lightweight fly rod with unique and almost endless custom color possibilities, this is the blank for you!
RODgeeks Carbon 4 fly rod blanks are high modulus, high strain with a difference from other manufacturers' similarly touted blanks because they perform superbly when loading and casting long AND short distances. This is because of the ST3 design which creates smoother and stronger arc transitions in the blank compared to the harder and weaker ones of traditional blank designs.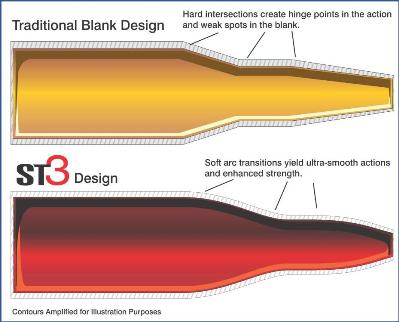 This allows RODgeeks to create lighter weight and smaller diameter blanks that are simultaneously very sensitive with plenty of backbone.
Designed as four-piece blanks, the Carbon 4, like all other RODgeeks blanks, is available in either the standard matte clear coat finish, single custom color ($15 extra), or the newest custom two-tone color option ($20 extra). (Three or four custom color is a NEW option for Rodgeeks blanks. This option requires a minimum of a ten blank order, though, and would get a custom price quote.)
(Prices in the table below are retail and reflect standard matte clear coat finish. Custom color pricing is extra as described above.)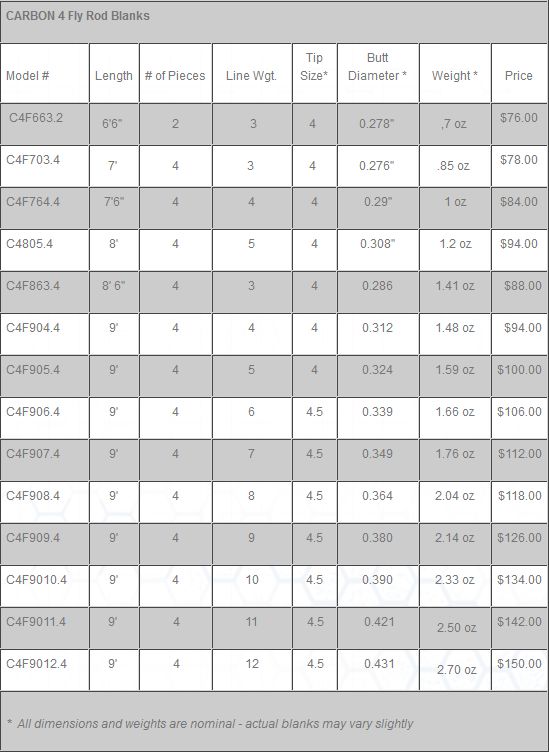 With 28 available color options, 700+ two-tone combinations are available to the fly angler interested in not only a high performance fly rod, but a uniquely beautiful one!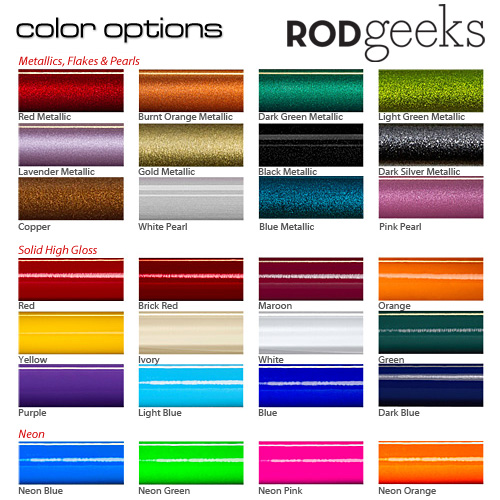 Stand apart from the retail consumer crowd and contact me, Randy Rodriguez, owner of Nadi Fly Rods, LLC to receive a quote for a one-of-a-kind custom fly rod build using a RODgeeks high performance, color customized Carbon 4 fly blank.